1. Make Up, Beauty, and Fashion Giveaway
It is one another amazing giveaway!
Giveaway Prize:
♥ Real Techniques Core Collection.
♥ Sleek Makeup Storm i-Divine Palette.
♥ OPI Vintage Minnie Mouse Mini Collection.
You can join
here
!
2. Iambabypanda's Thanksgiving Giveaway
This is another great giveaway form ina, she generously give us :
♥ All the twenty four (24) shades of the
Etude House Dear My Blooming Lips Talk Lipstick
♥ Etude House Sun Prise Fresh Sun Powder SPF 50/ PA +++
♥
Etude House Precious Mineral BB Cream
♥ Etude House OMG Dry Shampoo
♥ Pink Ipod Shuffle 4th Generation
Wow~ you can joining her giveaway here!
3. Cominica Mini Giveaway
Cominica, one of my fave blog helding a candy doll mini giveaway! I want to try candy doll lipgloss, the color looks so opaque and beside I love the color of the gift. You can join by click
here
!
4. Mimoyoja First Blog Giveaway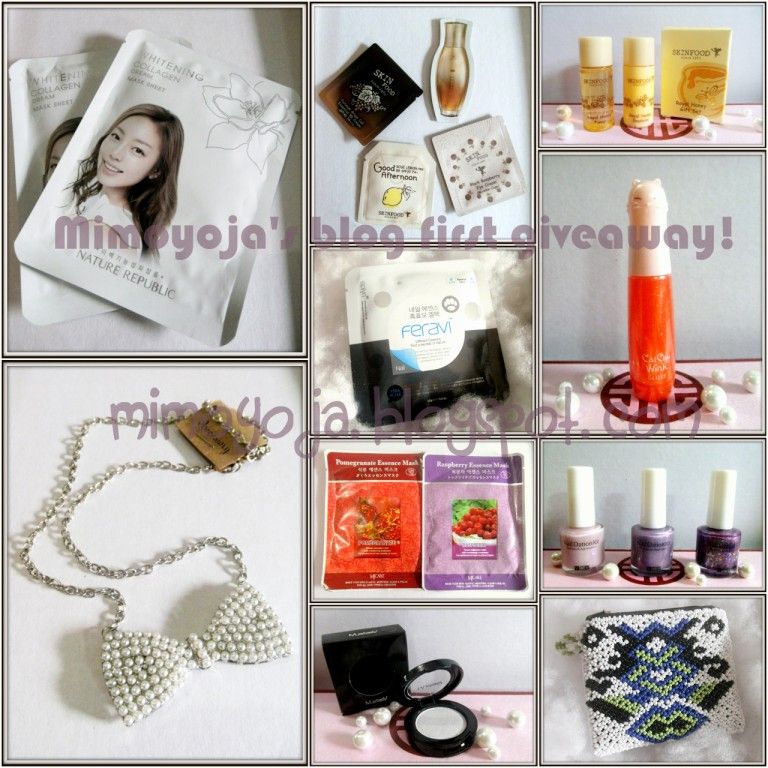 Mimoyoja holding their very first blog giveaway! You can join here!
5. PASION STAR BUTTERFLY'S END OF SUMMER GIVEAWAY
I enter this amazing giveaway. You can get:
and a hello kitty eyeliner
You can join the giveaway here!
6. The Black Pearl 2000 Followers Giveaway
This giveaway is open internationally and you can join here!
7. Yevi Ng 1st International Giveaway
Yevi Ng is having giveaway for international winner! You can get:
Precious Mineral Sun BB Cream SPF 50+/PA+++ 35gr W13 Natural Beige
Dear My Blooming Special Gift Set
8. MissKatV's 2500 Followers Giveaway
The prizes are:
2 boxes of help: clear skin (14 sachets)
fanny serranno powder blush in cinnamon stick
natasha beauty face mattifier
natasha beauty powder foundation
sketches pressed powder
natasha beauty lip and cheek tint
peau d' or pearl self tanning lotion
9.Sigma Beauty Travel Brush Kit Giveaway!!! *Opens Internationally*
You can win one of the brush kit! I wish I win the pink one! You can join
here
!